The Association de la Montée Historique de Laon was created in 1991 on the basis of the observation that old and/or prestigious cars would be a very good vector of attractiveness for our city of Laon and its region.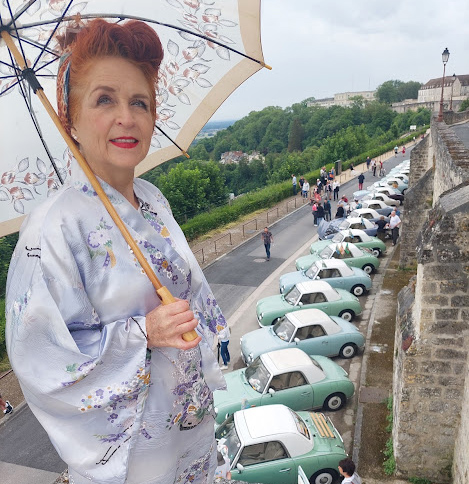 From 30 classic cars in 1991 to 1000 cars in 2016 to celebrate the 25th anniversary of the CIRCUIT HISTORIQUE DE LAON, the association has proved over the years that development is possible.
As proof, the number of participants varies between 750 and 850 cars each year. The enthusiasm for our event goes beyond the borders since half of the crews come from the United Kingdom, Belgium, Netherlands, Luxembourg, Germany, Switzerland, Italy, Portugal…, the other half being in majority from the North of France, Paris but also from the Var…
In order to make a success of these bets each year, we need a team of passionate volunteers who combine rigour, professionalism and shared pleasure. Hence our famous PEPS (Passion, Envy, Sharing, Smile)
But the association of the Montée Historique de Laon, with its 150 members, organizes all year long very beautiful events:
The Historic Circuit of Laon
The Picardie Cathédrales Classic Tour
The Laon Vintage Rally (pre-1945 cars)
The 100% Women's Rallye des Merlettes
The Association's Rally
And participates or exhibits at events such as: Le Mans Classic, Chantilly Art & Elegance, Rétromobile, Salon Champenois in Reims, Monte-Carlo Historique, see Goodwood…
Of course, we also provide all our partners, whether institutional or private, with a very good visibility and a good reason to trust us. They prove it to us every year.
Thank you to all those who, from near or far, give us this support.
Jean-Louis CHÊNE
President of the Association de la Montée Historique de Laon

Following the General Assembly of the Association de la Montée Historique de Laon on 29 April 2022, the Board of Directors is composed of 12 members::
Jean-Louis CHÊNE
Thierry DUPONT
Jean-Pierre DURET
Stéphane EVRARD
Catherine FRAYON
Michel HAVEL
Didier JACQUET
Hermann MAUVAIS
Bernard POLO
YVES SCUDELLER
Philippe VENET
Danièle VERPLANCKE-JURION
The members of the Steering Committee were elected at the first meeting of the Board of Directors on 5 May 2022:                                                                                                                                                                                   President: Jean-Louis CHÊNE
1st Vice President: Philippe VENET
2nd Vice President: Michel HAVEL
Treasurer : Yves SCUDELLER
Assistant Treasurer and Human Resources: Jean-Pierre DURET
Secretary : Danièle VERPLANCKE-JURION
Assistant Secretary: Catherine FRAYON
Honorary President: Jean-Marie VISAT
Ville de Laon
The Tourist Office of the City of Laon is a partner of the first hour...
Conseil départemental de l'Aisne
The Aisne Departmental Council
has always been a partner...
Région Hauts-de-France
The Hauts-de-France region is a close partner...
CARS TOURS
Scenic and Continental
Cars Tours
FFVE
French Federation of classic vehicles
You want to become a member of our association, you are welcome.
You want to participate in the organization of our events.
Association de la
Montée Historique de Laon
9 rue du Bourg - BP 513
02000 LAON - FRANCE
Tel : 00 33 3 23 79 83 58
Email : circuit-historique-laon@orange.fr