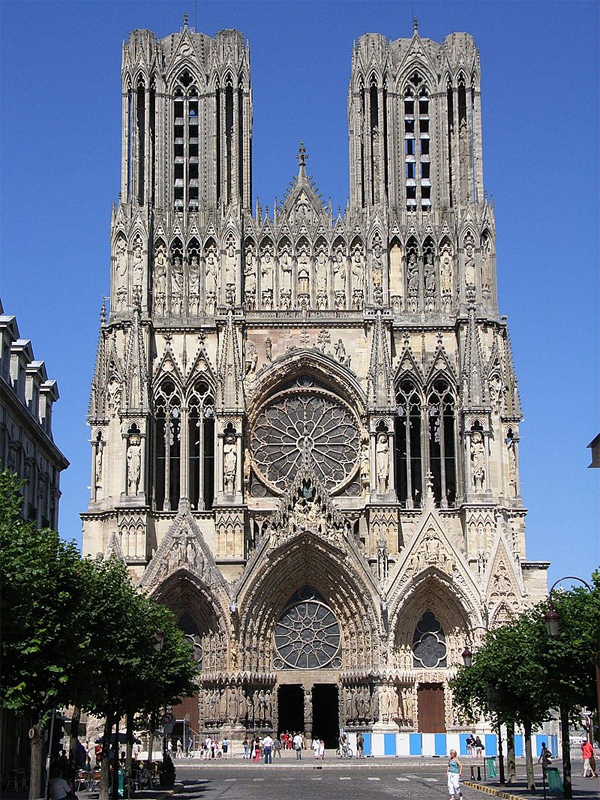 3th Cathedrals Classic Tour
From Reims to Soissons…
***
25 and 26 April 2015
The rain was at the rendezvous on the square of the cathedral of Laon for the departure of the 3rd Rallye PICARDIE CATHEDRALES CLASSIC TOUR. This did not demotivate the participants, who enjoyed a drive through the superb landscapes of the Marne department to reach Reims. The next day, the visits continued with the Castle of Monmort-Luc and the Abbey of Orbais, before joining the department of Aisne visiting Saint-Jean-des-Vignes in Soissons. The arrival took place at the castle of Rouyaucourt-et Chailvet. It was organised by the students of the IUT of Laon.
A word from Julie and Jean-François :
We wanted to thank you all for this rally of the cathedrals! More used to the sporting side of regularity rallies, it was a great discovery for us. We greatly appreciated the atmosphere, the organisation, the visits (by this extraordinary guide!) …. Good times, nice discoveries, nice meetings and nice cars. 
List of participants in the 3rd PICARDIE CATHEDRALES CLASSIC TOUR :
(The number corresponds to the number of the rally plate)
N° 1    ALLONDRELLE F / NABOUDET G   –> AUSTIN HEALEY Frogeye
N° 2    BARAQUIN J / GIEMER N   –> CHEVROLET Corvette
N° 3    BARBIER B / BARBIER A   –> TVR Chimaera
N° 4    BREGLER JL / BREGLER B   –> FIAT 124 Coupé
N° 5    CAZE L / CAZE D   –> TRIUMPH Spitfire
N° 6    CHENE JL / CHENE C   –> BMW Z1
N° 7    CHOLET S / YGONNIN L   –> AUSTIN MINI
N° 8    CHOVET D / CHOVET R   –> ALFA ROMEO Spider
N° 9    DAMERY M / DAMERY A   –> ALPINE RENAULT
N° 10    DAUTRECQUE T / ROUX E   –>  AUSTIN MINI
N° 11    DEGREMONT C / DEGREMONT N   –> ALPINE RENAULT A310
N° 12    DELVILLE M / DELVILLE M F    –> PORSCHE 911
N° 13    DEMAREST C / DEMAREST V   –> TVR S2
N° 14    DEMARET H / DEMARET C   –> SIMCA Rallye 1
N° 15    DUPONT G / DUPONT N   –> ALPINE RENAULT A310
N° 16    DUPONT T / DUPONT S   –> ALPINE RENAULT A610
N° 17    DURET JP / DURET B   –> TRIUMPH TR4
N° 18    DUSSART G / Notre guide   –> CITROËN 2CV
N° 19    FLAGEL D / FLAGET C   –> FORD Mustang
N° 20    FOSTIER JP / GODIMUS B   –> FORD Tiffany
N° 21    GILLES B / LEROY N   –> RENAULT 4CV
N° 22    GUITTRD F / PERRIN C   –> TVR Taimar
N° 23    HAVEL M / HAVEL M   –> FIAT Barchetta
N° 24    LAINE G / LAINE MC    –> PORSCHE 911
N° 25    LAMENDIN H / TRONQUOY JP   –> CITROËN DS
N° 26    LE LIEVRE P / CAUDRON JP   –> MATRA Bagheera
N° 27    LELIEVRE J / LELIEVRE R   –> CHEVROLET Corvette
N° 28    MARECHAL S / MARECHAL MJ   –> ALPINE RENAULT A110
N° 29    MARECHALLE L / MARECHALLE N   –> TVR 350I
N° 30    MASCART JM / BLONDEAU D   –> HONDA S 2000
N° 31    MORCEL C / MORCEL L   –> ALPINE RENAULT A310
N° 32    PATAT B / PATAT D   –> FORD Lincoln
N° 33    PLAIS P / PLAIS I   –> FORD Mustang 6
N° 34    SIPOLIS F / SIPOLIS Y   –> LOTUS Exige S
N° 35    VAN DE WEGHE B / VAN DE WEGHE I   –> MG
N° 36    BERGER D / BERGER N   –> PEUGEOT 205 GTI
N° 37    DUMONT JF / DUMONT J   –> MINI COOPER 1991